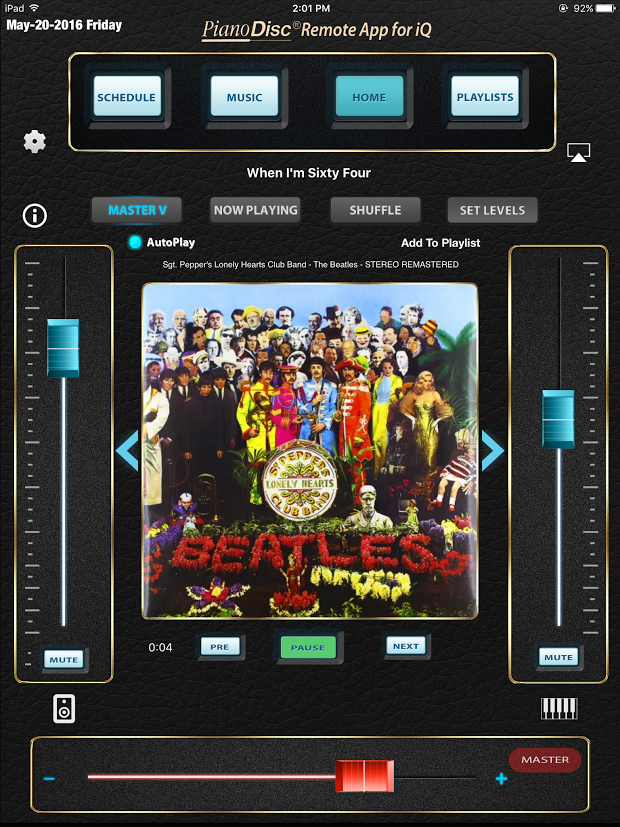 Schedule a Playlist to play automatically.
Pulls up all of the music on your device.
Enter 0000 for Settings Access
Fine adjustment of Audio/Speaker Volume.
Brings up this very webspage.
Mutes Audio/Speaker
Master volume. Turns up or down Piano and Audio. Response is instant whereas fine vertical volume adjustments have a slight inherent delay.
Transmit your music wirelessly Via AirPlay icon to AirPort Express under your Piano.
Set upper and lower Piano/Audio limits and levels for individual songs or albums.
Fine adjustment of Piano volume.

Swipe left or right to scroll through albums on your device. Touch album to open it up.
Brings up 18 Playlist boxes where you can place your music. (App will not play playlists created outside of it)


Places and removes the horizontal Master volume control on Main page of app.

Mutes Piano


If lit, piano scheduled to play automatically.



NEW NAVIGATION ARROWS Touch these two quickly scroll through the music on your device.





NEW ADD TO PLAYLIST BUTTON. ADD CURRENT SONG TO 1 OF 18 PLAYLIST BOXES

NEW GOLD TRIM GO INTO SETTINGS TO TURN IT ON/OFF




NEW HIT HOME BUTTON AT ANY TIME TO BRING BACK ALBUM ARTWORK